Ohio Stadium Seating Chart
Concert Events Seating Chart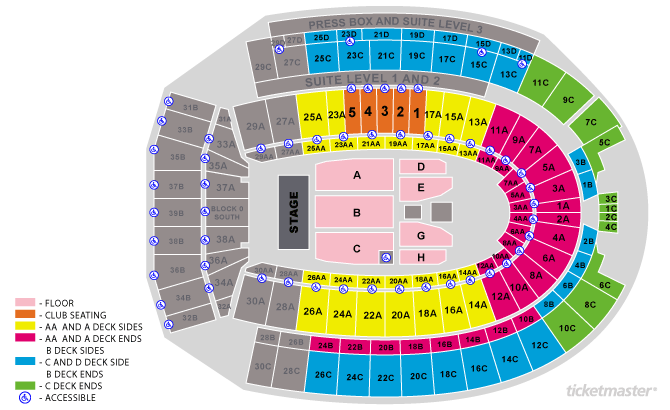 Sports Events Seating Chart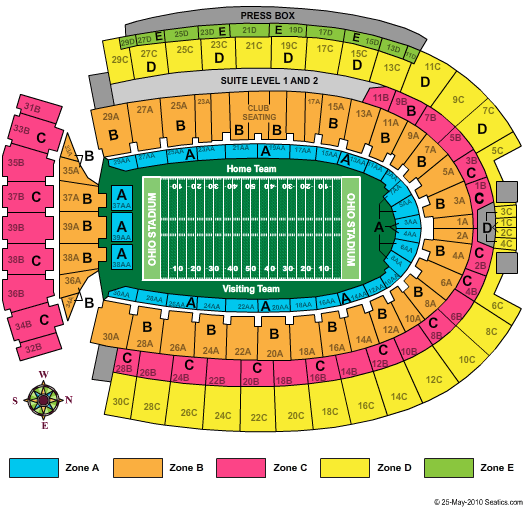 NOTE: Seating layouts may change depending on the event. Make sure you check the individual seating map when selecting your tickets.
Ohio Stadium has a rather easy seating chart for fans to understand as it follows an odd/even section pattern. The west side of the stadium uses odd numbers (sections 1-39), while the east side uses even numbers (sections 2-38).
Ohio Stadium has also tiered off each level alphabetically A-E. The A-level is closest to the field, whereas, the E-level is the highest area in the stadium.
Majority of seats at the stadium are bleacher seatings (no chair backs). Seats with chair backs are more expensive and are mostly located in the club and suite level sections. However, attendees are allowed to bring their own chair backs to the venue.
It is well-known that Ohio state fans in Big 10 football are the rowdiest in the country. So these sections will be the life of the party at Buckeyes games. Thus, these sections are not kids friendly and are best to avoid if you are bringing your kids.
Student tickets are only available for students who are enrolled in the Ohio State University. Outsiders are not permitted to purchase or use student tickets. IDs will be checked for those who are using student tickets so do avoid buying secondhand student tickets if you are not an OSU student!
However, some of the very best seats are near this section (excluding premium seats) as there is contagious energy that spreads from the students to every surrounding section. It makes for a unique and thrilling game day experience.
B Deck:
The B Deck at Ohio Stadium is covered by an overhang (except for the end zone B sections). This section protects ticket holders from elements like precipitation and the sun. Seats in the B deck also have chair backs and is much more comfortable than the standard bleacher seating.
It is important to note that because this level is covered, support pillars can cause small obstructions to the view of the field and ticket price is at a higher cost.
Visiting team fans section:
Stay out of these sections if you are a Buckeyes fan!
Sections 6C, 8C, 10C, and 4AA-10AA are the designated visiting team sections at Ohio Stadium. Be aware that the visiting teams sit in row 8 and higher (rows 8-41) in sections 8C and 10C.
Club Seating:
Ohio Stadium Club Seating is found in sections C1-C5. Furthermore, these five sections are split between 'Platinum' C2-C4 (closest to the 50-yard line) and 'Gold' C1 and C5.
These club seats are extra wide and have chair backs. Ticket holders are also provided with access to club lounges and upscale food and beverage. Prices are of course at a premium cost too.
Reserve your seat and order your tickets today! Visit the events page to get started.
For more information on the ticket policy and the preferred ticket provider please view the Ohio Stadium tickets page.
For all upcoming events at the Ohio Stadium please view the Ohio Stadium events page.